Chip in for Presque Isle
April to Sept. 2022
September GRAND PRIZE Winning Number
26113
An easier way to give back
"Chip in for Presque Isle" program began in 2021 to help raise funds for improvement projects at the Park! Using wooden nickels, or as we like to call them, Wood Chips, we've created a simple way to give back to the park that provides us all with so much joy.
During the last full weekend of the month, April - September, you'll find our donation outpost set up at Vista 4 parking lot on Presque Isle. We'll be collecting donations and in return for your gift, you'll receive a special Wood Chip keepsake.
Last year, the program brought in more than $20k in donations that are being used for several projects and purchases - 15 new picnic tables, 2 new lifeguard stations for Beach 3 and 11, a foot rinsing station for Beach 11 and a jet-ski rescue tow for the lifeguards, to name a few. Thanks to all who chipped in for Presque Isle!

Wood Chip Benefits

Each wood chip is marked with a unique number. When you register this number using the registration link above, you'll be automatically entered to win monthly Presque Isle themed gift packages and a grand prize drawing of $1000 cash April through September 2022.
And to make things even sweeter (pun intended), your Wood Chip comes complete with a coupon redeemable for a FREE ice cream or yogurt at Sara's Restaurant. Thanks Sara's!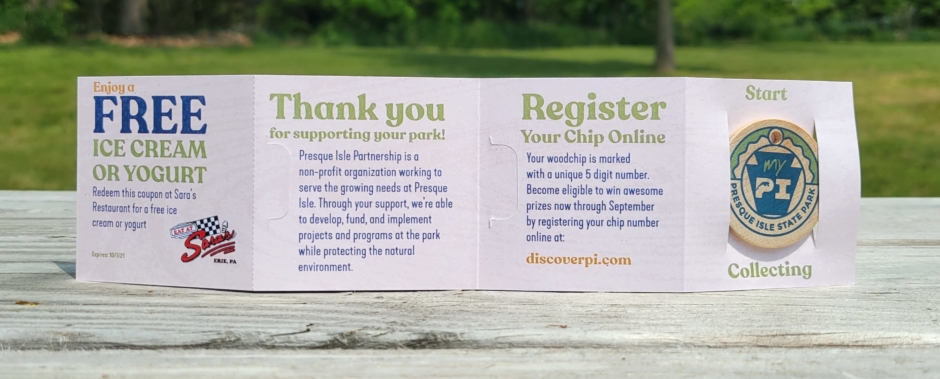 ---
When and where to get Wood Chips?
Presque Isle Gallery & Gifts. Located in the Tom Ridge Environment Center. Open daily 10AM - 4PM.
Surgeon Bay parking lot. That's the 4th parking lot on your right after entering the park.
April 29 - May 1 | 10AM - 4PM
May 27-29 | 10AM - 4PM
June 24-26 | 10AM - 4PM
July 25-31 | 10AM - 4PM
August 26-28 | 10AM - 4PM
September 23-25 | 10AM - 4PM
2022 Prizes
April Presque Isle Souvenir Prize Package | Winning Number: 22050
May Presque Isle Apparel Prize Package | Winning Number: 26232
June Presque Isle Lighthouse Souvenir Prize Package | Winning Number: 26400
July Presque Isle Souvenir & Apparel MEGA Prize Package | Winning Number: 21197
August Presque Isle Apparel Prize Package | Winning Number: 22832
September $1000 Cash Grand Prize | Winning Number: 26113