Chip in for Presque Isle
May to Sept. 2023
August 2023 Winning Number
1883
Have a wood chip?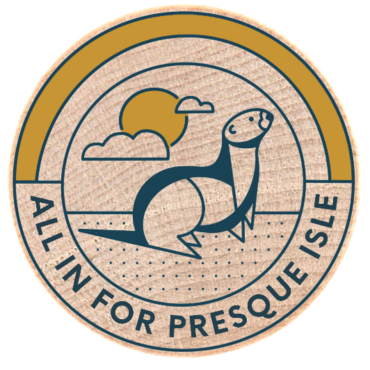 "Chip in for Presque Isle" program began in 2021 to help raise funds for improvement projects at the Park. Again in 2023, stop and see Partnership volunteers at the 4th bayside parking lot to chip in for Presque Isle! During the last weekend of each month, now through August, 9am-3pm, we will be continuing our donation program using wooden nickels, or as we like to call them, wood chips.

Wood Chip Benefits

Each wood chip is marked with a unique number. When you register this number, you'll be automatically entered to win monthly Presque Isle themed prizes and a grand prize drawing of $500 Country Fair gift card. Your donation also comes with a coupon redeemable for a FREE ice cream or yogurt at Sara's Restaurant!
About the Design
This year's wood chip design honors the North American River Otter. Video evidence recorded on Dec. 31, 2022 confirmed the presence of the otters at Presque Isle. Otter tracks and sign have been observed by DCNR naturalists and visitors throughout the park for some time, however, no photographic evidence of the animals have been captured until recently. This new knowledge of the species means that staff can now monitor the population and highlight the otters as a unique feature to the peninsula. Magic happens all the time at the park, and this is clear proof!
---
When and where to get Wood Chips?
Presque Isle Gallery & Gifts. Located in the Tom Ridge Environment Center. Open daily 10AM - 4PM.
Sturgeon Bay parking lot. That's the 4th parking lot on your right after entering the park.

May 26-29 | 9AM - 3PM | Winning Number: 1465
June 23-25 | 9AM - 3PM | Winning Number: 0573
July 21-23 | 9AM - 3PM | Winning Number: 0686
August 25-27 | 9AM - 3PM | Winning Number: 1883
September 22-24 | 9AM - 3PM - Chip in Weekend Cancelled
2022 Winning Numbers
April Winning Number: 22050
May Winning Number: 26232
June Winning Number: 26400
July Winning Number: 21197
August Winning Number: 22832
September Winning Number: 26113